Most conferences do not invite comparisons to spiritual journeys. But, Blue Mind is unlike most conferences. 
In truth, the annual Blue Mind Summit escapes all attempts at definition.
The event, now in its sixth year, was conceived by Wallace J. Nichols and friends in part to elevate the conversation around the cognitive, emotional, and physiological benefits of being around water.  With help from a diverse range of experts including pioneers from the fields of neuroscience, psychology, economics, sociology, clinical therapy, oceanography, and ecology, the event aims to incorporate this conversation into mainstream scientific discourse.
The other part: To bring together in one location an eclectic—and positively electric—gang of smart, passionate people that care intensely for our oceans, lakes, and rivers in order to help us collectively engage in the creative destruction of the ways our economy and society have come to relate to water. To unite us in our efforts to dismantle value-based dogmatism, to tear down academic silos, and to shape new holistic paradigms—all the while connecting with our colleagues in a deeply personal and profoundly human way.
This gathering reminds each participant that we are not alone in our love for all-things water.
…It also reminds us that we need more float tanks.
Rocky Point on the Big Sur coast directly south of Monterey. 
Blue Mind 6 drew attendants from around the world. From Mozambique, Tim Dykman, co-founder of TOF-hosted project Ocean Revolution, and Kudzi Dykman, the first woman to become a SCUBA instructor in her country.  From New York, Attis Clopton, a musician determined to face his fears and learn to swim at any age. From South Africa, the master of ceremonies Chris Bertish, who conquered Mavericks in 2010 and has his sights set on stand-up paddle boarding across the Atlantic. From Annapolis, Maryland, Teresa Carey, co-founder of Hello Ocean, who spoke of a harrowing sailboat crossing in rough seas and the concept of Type II fun—the kind of fun that is retrospective, since at the time you are likely miserable and perhaps even struggling to survive. And, from Washington, D.C., me, Ben Scheelk, just another oceanophile immensely grateful after having witnessed my brother narrowly escape his own mortality only days before the conferencein the turbid, milky depths of a shallow pool at the base of an impossibly high waterfall.
Ben Scheelk at Blue Mind 6. 
Of course, we had all ostensibly come to Asilomar to learn and share with others, but I think many of us came to discover that we were there above all to learn about ourselves. What makes us laugh. What makes us cry. And, what makes us inspired to carry on our crusade to protect the water that brings us health and happiness.
The restored dunes outside the Blue Mind venue overlooking Asilomar State Beach, Pacific Grove, CA. 
Set along the ocean near Monterey, California, with the sprawling backdrop of the Pacific and the Monterey Bay National Marine Sanctuary—one of the largest, most biodiverse, and successful protected areas in the world—Blue Mind beckoned its aquatic diaspora back to this great ocean-mecca for a gathering of kindred spirits with salt-water in our veins and coral in our bones. This place and its surrounding marine habitat—referred to as the "Blue Serengeti" by Dr. Barbara Block, renowned Stanford biologist,
Tag-A-Giant's
scientific advisor, and the 2016 Peter Benchley Ocean Award winner for Excellence in Science—casts its spell on all who have the good fortune of visiting. The ocean wilderness beyond Monterey projects an immense gravity that ensures that even those who leave forever remain in its orbital sea-plane.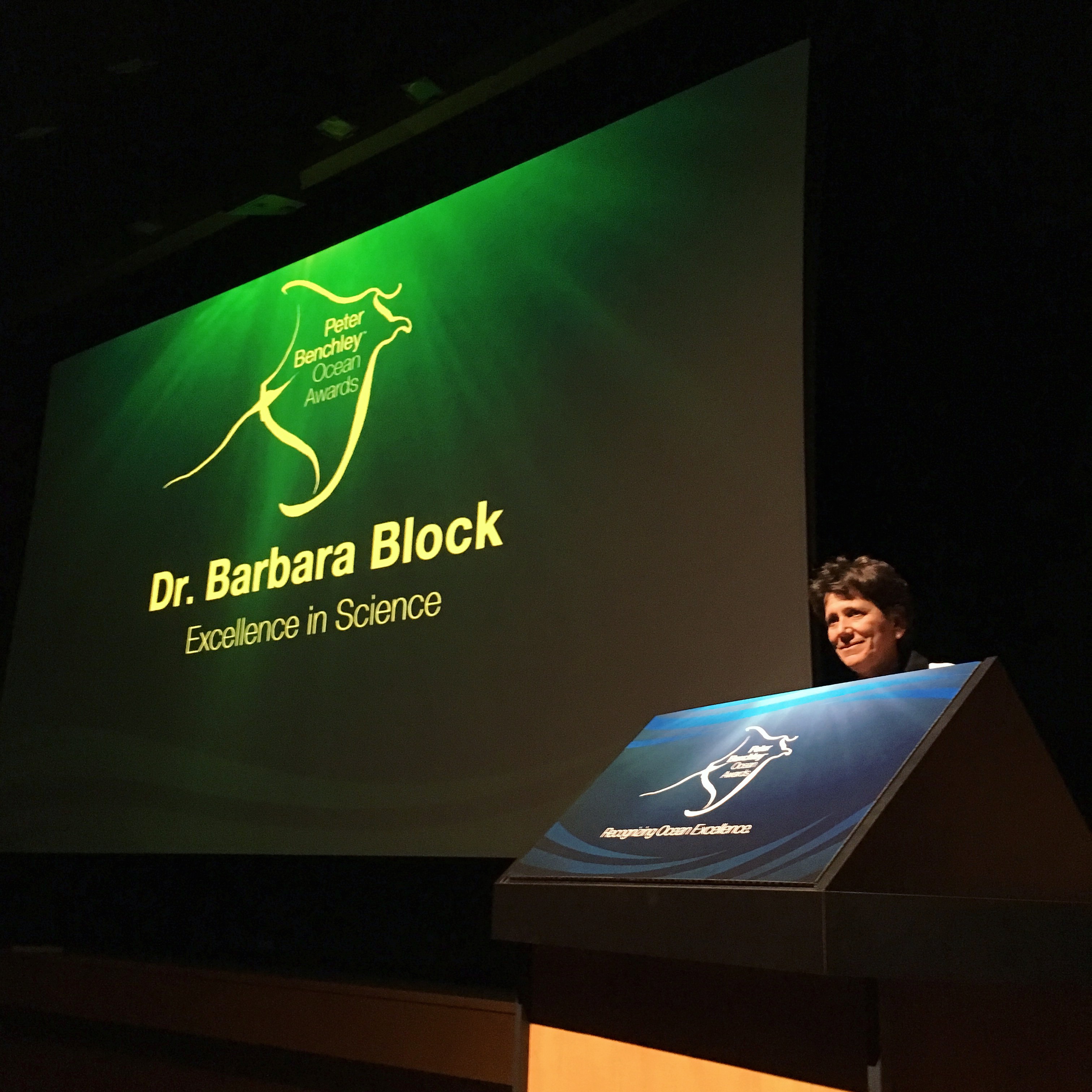 Dr. Barbara Block, Stanford biologist and scientific advisor for the TOF-hosted Tag-A-Giant Foundation, is the recipient of the Peter Benchley Ocean Award for Excellence in Science. The award ceremony took place at the Monterey Bay Aquarium on Friday, May 20th following the close of Blue Mind 6. 
Yes, I have always considered myself among the Blue Mind disciples. But, what has become clear is that this is not a pilgrimage to be taken alone. It is a journey to be shared with friends, family, and co-workers. And, this tent keeps on growing every year.
Some say it is the best party in town. Others say that given the doom and gloom that pervades discussions of our ocean's future health—it's the only party in town.
Please join us on this amazing ocean pilgrimage next year along the freshwater-ocean that is Lake Superior for the 7th rendition of this unique gathering. The Kool-Aid comes directly from whence we came.