International Ocean Acidification Initiative
---
The climate and ocean are changing. Carbon dioxide continues to enter our atmosphere because of our collective burning of fossil fuels, and when carbon dioxide dissolves into seawater, drastic changes to ocean chemistry — called ocean acidification — occur. This ongoing process stresses out some marine animals, and could disrupt entire ecosystems as it progresses.
To respond to the changing chemistry of the ocean, our International Ocean Acidification Initiative (IOAI) supports researchers conducting scientific monitoring and research in all coastal communities – not just in places that can afford it. Once there are systems in place, we fund tools and guide coastal communities to monitor, mitigate, and adapt to these changes.
---
Our Philosophy
What is Ocean Acidification?
Across the globe, seawater chemistry is changing faster than at any time in Earth's history.
On average, seawater is 30% more acidic than it was 250 years ago. And while this change in chemistry — known as ocean acidification — may be invisible, its effects are not.
As increased carbon dioxide emissions dissolve into the ocean, its chemical makeup is altered, acidifying the seawater. This can stress out organisms in the ocean, and reduces the availability of building blocks to potentially make it harder for calcium carbonate-forming creatures like oysters, lobsters and corals to build the strong shells or skeletons they need to survive. It makes some fish confused, and as many animals expend energy on compensating to maintain their internal chemistry in the face of these external changes, they don't have the energy they need to grow, reproduce, acquire food, fend off disease, and carry out usual behaviors. And it's only getting worse.
Ocean acidification can create a domino effect, disrupting whole ecosystems that have complex interactions between algae and plankton — the building blocks of food webs – and culturally, economically, and ecologically important animals like fish, corals, and sea urchins. While the susceptibility to this change in ocean chemistry can vary among species and populations, disrupted linkages can reduce overall ecosystem function and create future scenarios that are difficult to predict and study.
Solutions that Move the Needle
This alarming trend requires public, private, and non-profit organizations both in and outside of the ocean community to come together, to develop and advance solutions that move the needle. We must reduce the amount of anthropogenic carbon entering the atmosphere from fossil fuels.
We need to strengthen the connection between ocean acidification and climate change through international attention and legal governance frameworks, so these issues are seen as related issues and not separate challenges. And we need to sustainably fund and maintain scientific monitoring networks and the creation of databases for both the near and long-term.
As the only community foundation for the ocean, we are helping coastal communities deal with a changing ocean in a changing world.
We are building scientific and policy-based capacity needed to help drive the global response to ocean acidification.
Our Approach
Since 2003, The Ocean Foundation's International Ocean Acidification Initiative has fostered innovation and developed strategic partnerships to support scientists, policymakers, and communities around the world. This work is governed by a three-pronged global strategy:
Monitor and Analyze: Observing how, where, and how quickly change is occurring, and studying current and future effects of ocean chemistry on natural and human communities
Engage: Building partnerships and coalitions with stakeholders
Act: Enacting legislation that supports science, mitigates OA and helps communities adapt
Building the Science: Monitor and Analyze
Observing how, where, and how quickly change is occurring, and studying current and future effects of ocean chemistry on natural and human communities.
To respond to the changing chemistry of the ocean, we need to know what's going on. Scientific monitoring and research needs to happen in all coastal communities — not just in the places that can afford it.
Equipping Scientists
GOA-ON in a Box
Ocean acidification science should be practical, affordable and accessible. We need more innovations like the GOA-ON in a Box kit to support the Global Ocean Acidification – Observing Network. Complicated lab and field equipment was translated into a customizable, low-cost kit used for collecting high quality ocean acidification measurements. The kit, which can be shipped throughout the world to remote coastal communities, has been distributed to scientists in sixteen countries in Africa, the Pacific Islands, and Latin America.
pCO2 to Go
We partnered with Professor Burke Hales to create a low cost and portable chemistry sensor called the "pCO2 to Go". This sensor measures how much CO2 is dissolved in seawater (pCO2) so that staff in shellfish hatcheries can learn what their young shellfish are experiencing in real time and take action if needed. At the Alutiiq Pride Marine Institute, a hatchery in Seward, AK, the pCO2 to Go is being put through its paces in both the hatchery and field, demonstrating that we are almost ready to scale deployment to vulnerable shellfish farmers in new regions.
Pier2Peer Mentorship Program
We also partner with GOA-ON to support a scientific mentorship program, known as Pier2Peer, by awarding grants to mentor and mentee pairs – supporting tangible gains in technical capacity, cooperation, and knowledge. To date, more than 20 pairs have been awarded scholarships that support equipment purchases, travel for knowledge exchanges, and sample processing expenses.
Vulnerability Studies
We kicked off our one-year project with partners at the University of Hawai'i and Puerto Rico Sea Grant to design a framework for an ocean acidification vulnerability assessment in Puerto Rico. Co-PI Dr. Melissa Melléndez and TOF are working on a scientific synthesis to understand what is known about ocean acidification around the archipelago, while TOF, Sea Grant, and a small cadre of local student interns have conducted 45 interviews in 13 municipalities with stakeholders to understand their perception of this issue. This is the first NOAA Ocean Acidification Program-funded regional vulnerability assessment to focus on a U.S. territory and will stand out as an example for future efforts while providing key information about an underrepresented region.
Applying the Data: Engage
Building partnerships and coalitions with stakeholders.
But it's not enough to just reduce the cost. We need to work to enhance the capacity of scientists to lead locally designed monitoring programs, connect them to other researchers, and facilitate the exchange of technical equipment and gear. As of November 2022, we have trained more than 550 scientists from more than 25 countries. As they gather a suite of data on a coastal area's condition, we next need to get that information uploaded into broader databases like the Sustainable Development Goal 14.3.1 portal, which compiles ocean acidification data from around the globe.
Building Capacity in Ocean Acidification Monitoring in the Gulf of Guinea (BIOTTA)
Ocean acidification is a global issue with local patterns and effects. Regional collaboration is key to understanding how ocean acidification is affecting ecosystems and species and to mounting a successful mitigation and adaptation plan. TOF is supporting regional collaboration in the Gulf of Guinea through the Building CapacIty in Ocean AcidificaTion MoniToring in the Gulf of GuineA (BIOTTA) project, which is active in Benin, Cameroon, Côte d'Ivoire, Ghana, and Nigeria. In partnership with focal points from each of the countries represented and a student coordinator at the University of Ghana, TOF has provided a roadmap for stakeholder engagement and assessment of resources and needs for ocean acidification research and monitoring. Additionally, TOF is providing significant funding for the purchase of equipment to enable regional monitoring and data production.
Centering the Pacific Islands as a hub for OA Research
TOF has provided seven GOA-ON in a Box kits to countries in the Pacific Islands and is soon to award a handful more. In partnership with the National Oceanic and Atmospheric Administration, we selected and supported a new regional ocean acidification training center, the Pacific Islands Ocean Acidification Centre (PIOAC) in Suva, Fiji – a joint endeavor led by The Pacific Community (PC), the University of the South Pacific (USP), the University of Otago, and the New Zealand National Institute of Water and Atmospheric Research (NIWA). In coming years, this center will be a gathering place for all in the region to receive OA science training, use specialized ocean chemistry monitoring equipment, and for kit recipients to pick up spare parts for their own equipment in addition to receiving guidance on data quality control/assurance and equipment repair.
Developing Policy: Act
Enacting legislation that supports science, mitigates ocean acidification, and helps communities adapt.
Once we have the science and the systems in place to continue monitoring, we must fund and guide adaptation planning for coastal communities so that there is a roadmap in place to respond. But the ocean disregards artificial boundaries. Just as monitoring data is needed from all communities, we need to support and develop policies and legislation at the regional, national and subnational levels.
At the regional level, we are coordinating with Caribbean governments that are Parties to the Cartagena Convention and have supported the development of monitoring and action plans in the Western Indian Ocean.
At the national level, using our legislative guidebook, we have trained legislators in Mexico on the importance of ocean acidification and continue to provide advice for ongoing policy discussions in a country with significant coastal and ocean wildlife and habitats. We have partnered with the Government of Peru to help advance national level action to understand and respond to ocean acidification.
At the subnational level, we are working with legislators to support the development and passage of new laws to support ocean acidification planning and adaptation.
UN Climate Conference (2021)
In partnership with the International Alliance to Combat Ocean Acidification, we hosted the online event "Workshop on Climate, Biodiversity, and Marine Protection in Latin America" ahead of UNFCCC COP26. Featuring speakers ranging from an Ambassador to leaders of the Latin-American Ocean Acidification Network, the event provided a summary of high-level commitments for ocean climate action made in Latin America, updates from regional science and monitoring networks documenting ocean change, and a synthesis of policy frameworks and integrated management strategies related to coastal and marine protection.
TOF joined One Ocean Hub and the International Alliance to Combat Ocean Acidification to co-host "Exploring Law and Policy Strategies and Frameworks to Address Climate-Related Ocean Change" on UNFCCC COP26 Climate Law and Governance Day 2021. This panel brought together marine and climate experts to discuss legal and policy strategies, pathways for addressing climate change's effects on marine life, and synergies between the law of the sea and the climate change regime.
---
Our Work
We help to build the science, policy and technical capacity of practitioners leading ocean acidification initiatives worldwide and in their home countries. We do this by creating practical tools and resources that are designed to work all around the world including North America, Pacific Islands, Africa, Latin America, and the Caribbean. We do this through:
Connecting local communities and R&D experts to design affordable, open-source technological innovations and facilitating the exchange of technical equipment and gear.
Holding trainings around the world and providing long-term support through equipment, stipends, and ongoing mentoring.
Leading advocacy efforts on ocean acidification policies at the national and sub-national level and helping governments seek resolutions at the international and regional levels.
Demonstrating return on investment for innovative, simplified, affordable shellfish hatchery resilience technology to address changing ocean conditions.
---
The Bigger Picture
Despite the considerable threat that it poses to our planet, there are still significant gaps in our granular understanding of the science and results of ocean acidification. The only way to truly stop it is to halt all CO2 emissions. But, if we understand what is happening regionally, we can design management, mitigation, and adaptation plans that protect important communities, ecosystems, and species.
---
Resources
Recent
IOAI's recent workshop in Salinas, Puerto Rico was featured on WAPA TV as part of their special Earth Week coverage.
Ocean Acidification Day of Action
RESEARCH
The ocean absorbs a significant portion of our carbon dioxide emissions, which is changing the chemistry of the ocean at an unprecedented rate in a process known as ocean acidification.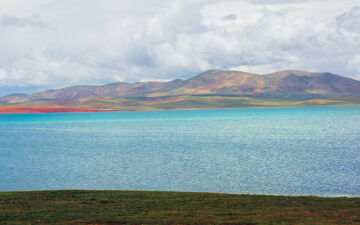 As concerns about climate change increase, the interrelationship between the ocean and climate change must be recognized, understood, and incorporated into governmental policies.
MORE LINKS
Capacity Building | Ocean Science Diplomacy | Supporting Island Communities | Networks, Coalitions and Collaboratives |
Equipping Scientists and Communities | Feature Collaboratives: West African Region
RELATED SUSTAINABLE DEVELOPMENT GOALS (SDGS)